From brewing beans to kneading doughs: Figaro Coffee Group finds niche in pizza delivery services
Angel's Pizza propelled the food conglomerate's growth in the Philippines.
Over the span of nearly three decades, the Figaro Coffee Group (FCG) has grown its business from serving a cup of joe to Filipinos with Figaro Coffee to bringing Taiwan's food scene to the Philippines with Tien Ma's restaurant. But what FCG did not see coming is that its expansion into the pizza delivery business, through Angel's Pizza, would propel its growth and drive it into going public today.
"We decided to go public because we saw that our small food company could actually be something bigger," FCG Chairman Justin Liu told Retail Asia.
"We never envisioned to be a huge player in the market; but because of the success of Angel's [Pizza] and the loyal customer following of Figaro, we were very encouraged."
At present, the group has more than 100 branches nationwide across all its retail restaurants and the company eyes adding 29 more Angel's Pizza outlets, six The Figaro Group Express multi-brand outlets, five Figaro Coffee shops, and one Tien Ma's Taiwanese cuisine restaurant after generating P767m (US$14.68m) in its initial public offering.
In an interview with Retail Asia, Liu shared how the company thrived over the years since 1993 and how its pizza delivery business led FCG's expansion.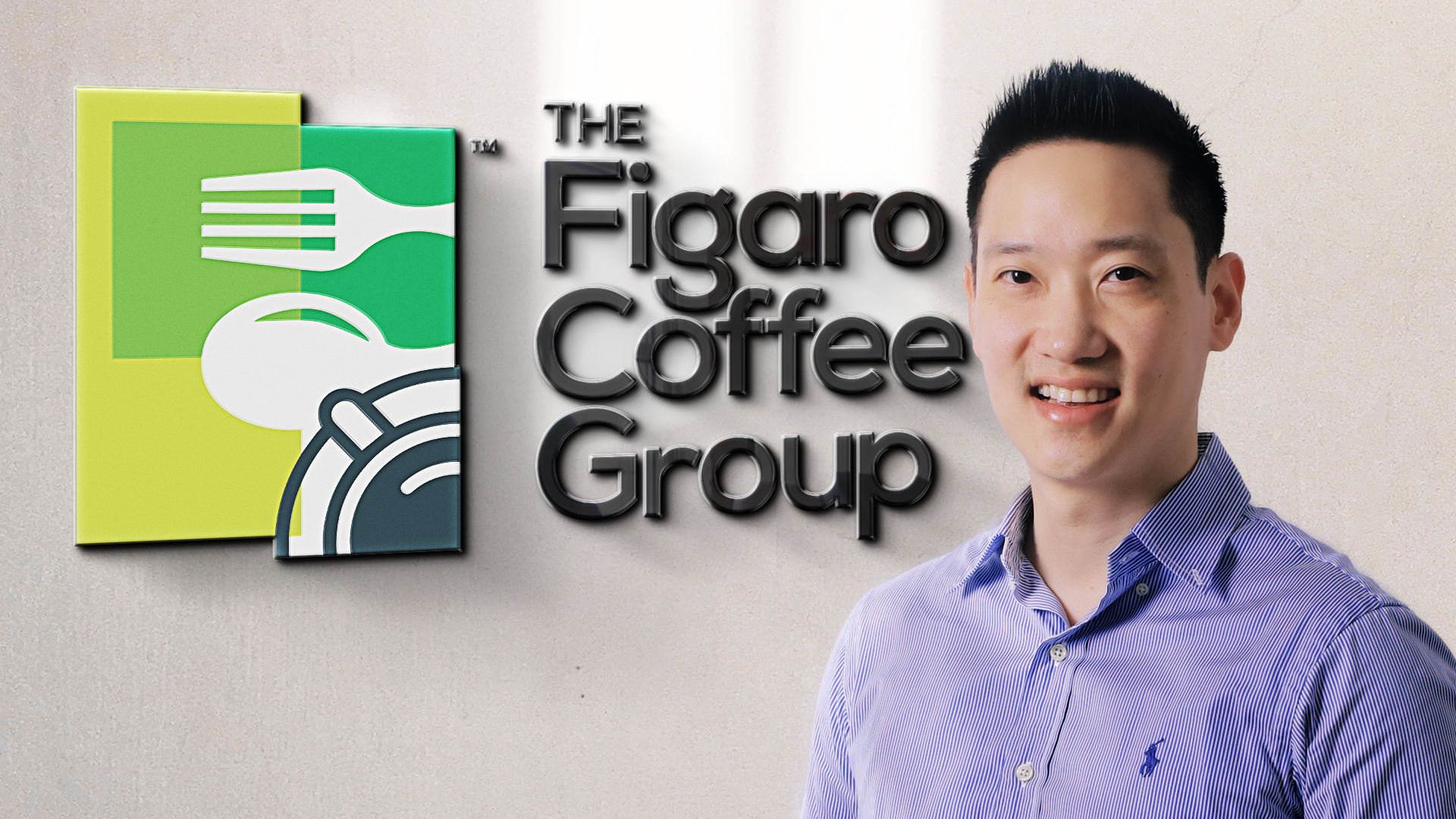 You recently launched your IPO. What drove you into going public this year?
We decided to go public early this year [2022], and we have been planning this since last year to be able to secure growth capital. It's quite challenging right now. Because of the pandemic, many businesses and banks have tightened their lending practices. Therefore, going public ensures long-term business continuity for our business. Also, because of the positive feedback we've had in the past years, we see that our company can become one of the strong food conglomerates in the Philippines, and perhaps expand abroad in the future.
We are a very small and still rapidly growing company. We also discounted the IPO price. Therefore, we believe there's a lot of upside for public shareholders and we are very happy to share our business growth with everyone.
Could you share with us how you plan on using your proceeds, any expansion here and abroad, and new products?
We had a successful IPO and we were able to raise P767m. The IPO market early this year was a bit challenging, but we were still able to pull it off successfully with very strong demand. At the moment, our shares are actually trading at a healthy premium from the IPO price.
For the proceeds, so with the money that we raised, we're looking to basically spend about 50% of it for our production and commissary development. We are also looking to expand our stores nationwide. So we will be spending about 39% of the proceeds on store openings. The expenses, the capex used for commissary, and store openings will go hand in hand because we have to expand all over Luzon, Visayas, and Mindanao where we will have to put commissaries there, as well. And 10% of the proceeds will be used for debt repayment, whilst the last 1% will be used to improve our IT infrastructure and digitalisation.
We introduced a lot of new products for Angel's Pizza. Everyone is familiar with our best selling product, which is the creamy spinach that actually contributed to our growth and it went viral during the pandemic. It's encouraging because a lot of other pizza players now are getting into the spinach pizza craze, which we also encourage, to push innovation and new pizza variants. In addition to this, we also launched our Hallelujah Mozzarella Pizza, which has more than double the portion of pure Mozzarella Cheese. It has been a hit, especially with the kids because everyone really loves mozzarella. We also introduced two new pizzas recently, which is our big Kahuna Hawaiian with huge, whole slices of pineapple, instead of just tidbits. We didn't stop there, we produced our Triple Threat. The Triple Threat is basically a pizza, which combines three flavours in one bite—All Meat, Pepperoni, and Hawaiian and the pizza is square cut, so people can really share with family and friends and be able to taste three flavors in one pizza.
In Angel's Pizza we want to always strive to break the mold when it comes to pizza and Italian fast food. So, we introduced our latest pasta called the Tomato, Cream, and Shrimp Penne. This is a very delicious blend of tomato cream, shrimp basil, and high-end pasta at a very affordable price. At Figaro, we were very proud to launch some of our new keto and sugar-free sweets. One of the solid trends now and something that many people have learned during the pandemic is health is wealth, to really watch what we eat. Figaro ventured into creating keto brownies, and our keto tiramisu cake, which has actually been quite successful in our stores, and we're looking to develop healthier alternatives.
What are the challenges that the business operation faced and how did you cope with it?
In 2020 to 2021, our revenues grew by over 150%. And although the overall F&B industry was very challenging, and many players encountered a lot of setbacks due to lockdowns and restrictions, we were very fortunate because our Angel's Pizza brand really drove the sales and growth because of take outs and delivery, and our focus on product quality and affordability.
In 2021, we opened 18 stores and we were one of the very few brands that really grew.
The major challenges we, and I believe many companies, not only in the F&B industry, faced were how to take care of our employees, especially those who got COVID and how to protect them and their families. What we did was we put up a small housing in our office, and those employees who wish to stay and be able to prevent infecting their family, or if they wish to isolate themselves, could stay in our facility. We also provided regular testing which the company paid for, and we make sure that we always provide sanitary products that they need, such as masks and alcohol and medicine, especially vitamins. We're happy because even up to now, our company is able to provide our people with vitamins to strengthen their immune system.
What changes have been implemented to keep the business running?
We did not really change much of our business model. Ever since, our company has been very diversified in business concepts, meaning we have dine-in concepts at Figaro, and Tien Ma's, these are more of a cafe, dine-in restaurants. But we also have delivery-focused concepts, like Angel's Pizza. This has actually helped us weather the challenge in the past few years.
In terms of delivery, we have also expanded our in-house delivery to our other concepts. One of the major fruitful partnerships that we developed and are continually growing is our partnership with Grab. We're proud that we are one of the top merchant partners of Grab in the Philippines. Grab recently went public on NASDAQ and they featured Angel's Pizza. We continue to communicate and cooperate very well with Grab to create enticing attractive promotions for our customers.
Can we expect more e-commerce initiatives in the next year?
Yes, last year, we actually improved our Angel's Pizza website. We beautified it and improved the user experience. This year, we are focused on integrating our website to our point-of-sale systems in the stores and to our back-end warehouse logistics and commissary systems in the office. We are also developing a new Angel's Pizza app, which will have a lot of exciting features for our customers. So we're looking to launch that this year.
For Figaro Coffee and Tien Ma's, as well as the Figaro Group Express, we are actually going very strong with Grab. We are looking to create more promotions with Grab and also expand our store network in these branches. At the moment, our e-commerce initiatives are mostly focused on Angel's Pizza.
Any current trends that you've observed in the industry and are there new ones that you expect to emerge this year?
Yes, some of the important trends that I've seen in the past few years and up to now are really the focus of customers on quality and authenticity. Because of the pandemic, we've seen customers be more selective on how they spend their money. Price is no longer the main driver for people's choice in the food and the products that they buy. In addition to that, we are seeing that people also take into account whether the products they buy are healthy or not. So, with this in mind, in the past two years, we also developed a very successful vegetable pizza in Angel's called the Garden of Eden, which has very unique toppings such as eggplant, zucchini, mushroom, and peppers. This is also a hit and we continue to see that people are choosing to be healthier. We think that we believe that this trend will continue.
What other plans does the group have in the pipeline?
Our plan really is to continue to focus on delivering value for money products to our customers, improve our customer user experience, customer satisfaction, and grow our store outlets in a prudent manner which is focused on profitability and quality of the business. In line with that, we will continue to innovate our products, innovate how we reach our customers, and how we communicate with them. Most importantly, we will always improve on how we take care of our employees because food our business is really labour driven. The growth is really attributed to our excellent employees.