Charles & Keith's elegant new store delivers a relaxing retail experience
The brand crafts a personalised experience through a mix of greenery, porcelain and handcrafted materials.
Nestled in the heart of bustling Taikoo Shing is a glamorous new boutique by leading fashion retailer Charles & Keith. Set in sharp contrast to the harsh urban landscape, this thoughtfully-designed store uses notes of greenery and plush couches to create a personalised shopping experience for customers.
"From the textures of our interior to the presentation of the merchandise, our intent was to create a space that allows for raw beauty to shine. We envision shopping at our store as an unhurried and personal experience, where customers can come, slow down, and focus on experimenting with their own individual style," said the company.
Charles & Keith designed the store in Cityplaza as homage to the city. Glazed ceramic tiles with a handmade finish line the walls of the 197-square-metre store, reminiscent of traditional high-rise apartment facades in Hong Kong. Keeping true to the brand's minimalist aesthetic, gradual curves and fluid lines are paired with a clean colour scheme that exudes a pared-down, modern feel.
The store also uses porcelain stoneware to create a striking contrast against the rest of the interior. A luxurious cementitious finish is applied to fixtures to emulate warm limestone, reflecting a contemporary perspective of simplicity and sophistication.
"We're thrilled to unveil the newest iteration of the CHARLES & KEITH boutique experience – just as the brand celebrates its silver jubilee. This store is an ode to the city, which has long been regarded as one of the most fashion-forward in the world," said the retailer.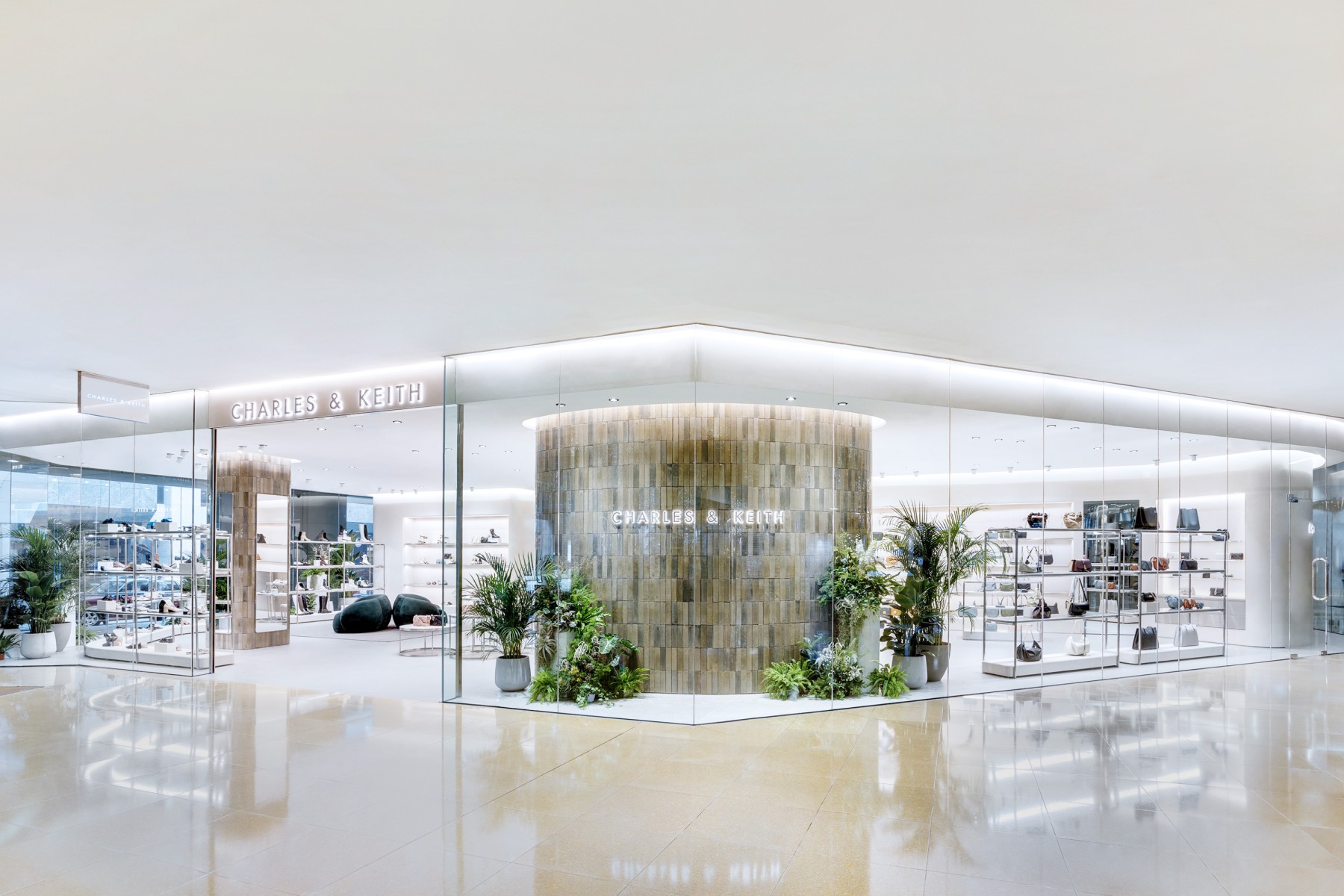 Greater presence in Hong Kong
The launch of Charles & Keith's new shop in Cityplaza marks the brand's commitment to deepening its footprint in Hong Kong, where it currently operates seven stores. "The Hong Kong Cityplaza store was a new location for the brand but has been one of our most consistent performers in the network since its opening in October 2021," the company shared. The brand has also recently opened a new store in Kaohsiung, reflecting its push to reach more customers in Hong Kong.
Moving forward, the retailer highlighted that new Charles & Keith stores will feature the same elegant aesthetic as the Cityplaza boutique. "This new store concept which will be reflected in all forthcoming openings stays true to our brand codes whilst injecting the personality of each individual city it calls home with one-of-a-kind features. It is a physical manifestation of our brand today where elevated materials meld harmoniously with trendsetting style," the company said.
Founded in 1996, Charles & Keith's vision is to empower women around the world to express themselves freely through fashion. Through its sustainable and carefully curated collections, the brand pushes the boundaries of modern footwear and accessories by constantly reinventing its offerings. Its stylish and trend-focused designs are now available in the Asia Pacific, the Middle East, Europe and the United States of America, and it operates over 400 outlets across the globe.
Charles & Keith has also grown from its roots as a brick-and-mortar retailer. The brand now offers a seamless online shopping platform to allow customers to shop from the comfort of their homes. It also uses an immersive virtual store experience which transports users to an exact virtual replica of its new concept stores with just a click. Guests can even roam around and explore every nook and cranny of each shop. This pioneering virtual store experience boasts thoughtfully-designed features which all work together to create an elevated online shopping experience.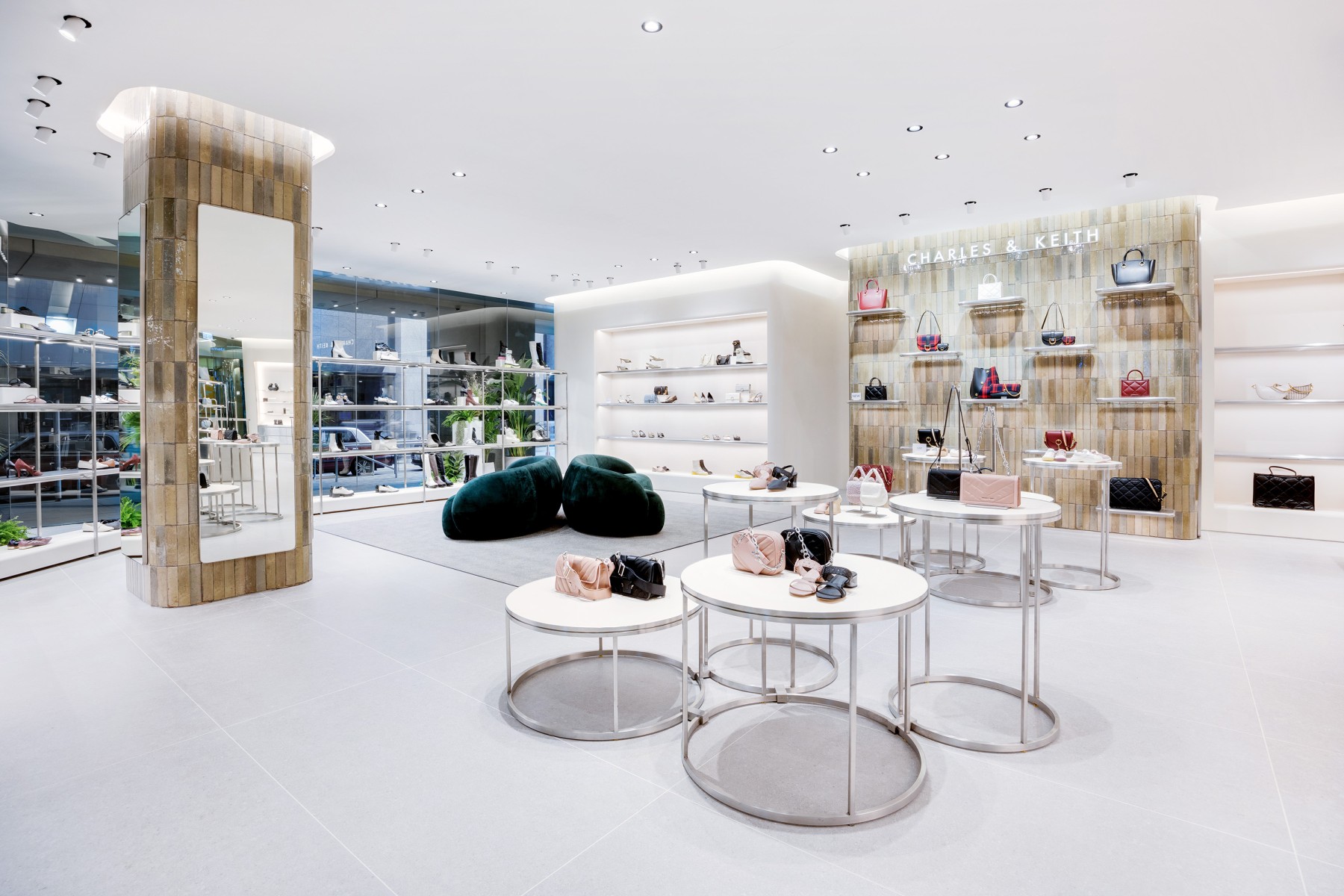 Charles & Keith is committed to sustainability not only for its products but also for the design of its physical stores. On the back of the Hong Kong Cityplaza boutique, its Taiwan Concept Store at Kaohsiung E Sky Mall uses sustainably sourced materials in its interior design.
"Given our high regard for local craftsmanship and commitment to sustainability, the visual experience team created light green corrugated display stands crafted from locally sourced, environmentally friendly recycled materials. Walls in the store feature exquisite pleats inspired by traditional Taiwanese cement sandblasting techniques," the firm noted.
Charles & Keith's boutique Cityplaza Taikoo Shing was recognised at the Retail Asia Awards 2022, where it bagged the award for Store Design of the Year (Small) - Hong Kong. "This award validates the efforts of our team who are passionate about ensuring this new concept is a physical manifestation of our brand today – where elevated materials meld harmoniously with trendsetting style," the company concluded.