Photo from H&M South Asia.
H&M accentuates lifestyle brand at flagship store in Singapore
Major revamp brings H&M Home and Orchard Building store's sustainable facade to fore.
H&M South Asia found the right time to officially launch the H&M Home brand in the Lion City alongside the major revamp of its flagship store at the Orchard Building.
"It has always been a big hit and [received] high demand from Singaporean customers. So we always knew [the launch] will need to happen," Oldouz Mirzaie, H&M South Asia managing director, told Retail Asia.
ALSO READ: H&M South Asia weaves sustainability, affordability into the fashion scene
"But again, it's very important for us to not just improve our offer, but to be able to bring our offer in line with an improved experience. So when the time came that we needed and wanted to upgrade the flagship store, we felt it was the right time to integrate an entire H&M Home offering," she said.
The brand will offer Singaporean customers various living, bath, bedroom, and children's accessories in different styles.
H&M also said that the collections in H&M Home will feature elements "ranging from quirky geometric shapes and prints to modern rustic shades of wood, as well as eclectic coloured glass and elegant metal and marble."
It will occupy a dedicated area on the first floor of the revamped store with a separate entrance and access through the Ladies' section.
Revamped flagship store
H&M reopened its flagship store on 24 August, following a five-month revamp.
Mirzaie said H&M has been in Singapore for 12 years now. Whilst, revamp has been done in the past, they need to give its facade a fresh new look.
Bringing its lifestyle brand to the flagship store also entailed changing layouts to create a space for H&M Home, she said.
"We have done other major updates to the rest of the store. This is to lighten up on the layout point of view so there's a lot more [flexibility], so that we can offer a lot more changed and curated shopping for customers throughout the different seasons," Mirzaie said.
"We can also match the layout to the fashion trends and the collections and so forth," she added.
The new store also included several digital features such as digital tripods, digital screens, and upgraded service areas such as fitting rooms and cash desks.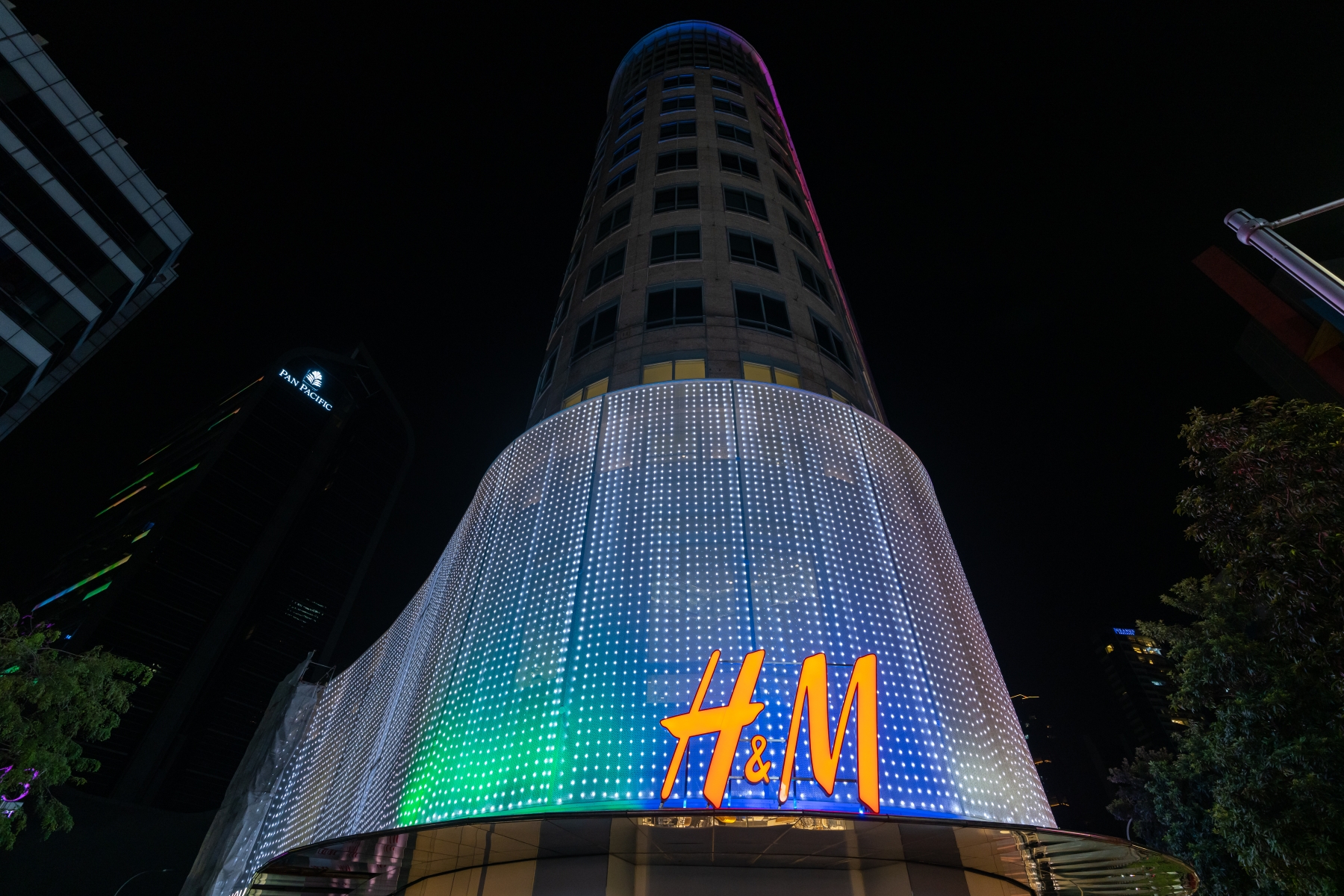 Photo from H&M South Asia.
Part of the revamp is the integration of augmented reality (AR). Posters with QR codes are displayed in the store which consumers, particularly kids and parents, can scan.
This will bring them to an AR world that will teach them about the brand's garment collecting programme and will include games to be a "recycling hero."
"It's a gamified experience. It's about education as well. We're educating both kids and parents to close the loop, how they can recycle their clothes, and creating awareness around the importance of sustainable choices," Mirzaie said.
The store also features open lounge areas in the Ladies' and Divided sections where customers can rest and serve as social areas.
Sustainability at the forefront
The new store also brings sustainability through its new tensile fabric facade, the Veil, which is made entirely from i-Mesh textile.
The first of its kind in Southeast Asia, the Veil was conceptualised by RSP Architects and follows the brand's fashion story and ethos, according to H&M. It said the material used is a sustainable textile made of high-performance fibres.
Whilst it appears as just a white canvas at a distance, the Veil's look changes constantly as it serves as a dynamic interface. At night-time, it becomes a display of vibrant colours with customisable lighting effects.
"It is an evolving fashion statement that not only embodies H&M's sustainability goals but also expresses our relationship with textiles," it said in a statement.
Overall, Mirzaie said the new store had a "fantastic reception" from new and existing customers.
"We will continue to look into how to further excite our Singaporean customer base," she said.