iShopChangi, Changi Airport Group wins Omnichannel Strategy of the Year at Retail Asia Awards 2022
Its omnichannel beauty experience, BEAUTIQUE by iShopChangi, adds another dimension to their tax- and duty-free retail.
The pandemic brought about a new set of unique challenges and conditions for companies to survive in, and one of the hardest-hit sectors would be the airline industry, wherein countries enacted strict lockdowns and refused the admission of tourists and travellers. Whilst mainly impacting airliners, airports also struggled as their retail income dwindled with the lack of substantial traffic, but Changi Airport Group garnered the Omnichannel Strategy of the Year - Singapore Award by managing to adapt to the dynamic market with their eCommerce platform, iShopChangi.
The awards programme recognises major breakthroughs, innovations, and key players in the retail industry of Asia, and the Changi Airport Group's BEAUTIQUE by iShopChangi distinguished them from their competitors by bringing in an omnichannel lens to their tax- and duty-free retail aimed at non-traveller skincare and cosmetics customers.
Expanding the product range features and operations to non-travellers, the launch of the omnichannel beauty experience with both the Jewel Changi Airport and the online store-in-store concept amidst the competition has seen a continuously growing market share locally for iShopChangi. An improvement in acquisition, sales traction, and brand presence and affinity to customers, both old and new, was also observed with the expanded sales channels.
Post-pandemic shifts in consumer preferences aided the success and the uniqueness of iShopChangi, especially with the rise of 'hybrid' shopping seesawing between online as the norm, to offline in-store experiences that consumers look for.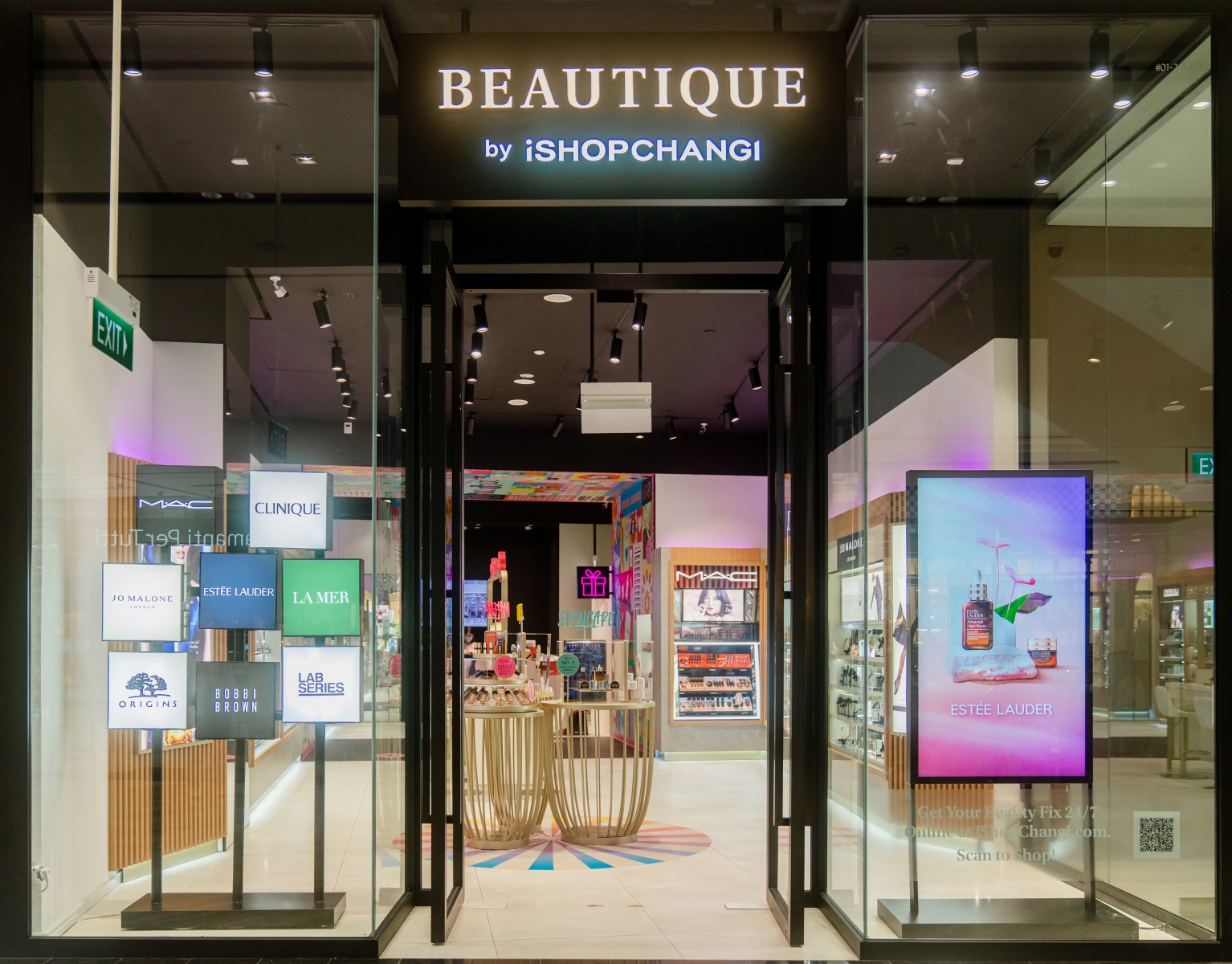 BEAUTIQUE by iShopChangi was born from iShopChangi's decision to intertwine online and offline experiences for customers, despite the lingering pandemic effects shuttering brick-and-mortar stores. BEAUTIQUE is a hybrid shopping concept of a 'shop anywhere' beauty boutique for beauty enthusiasts in the non-travel segment through a collaboration with Estée Lauder Companies.
The store supplemented iShopChangi's online strengths with the integration of backend operations and inventories, with exclusive personalised experiences and the delight of in-store beauty boutique shopping. This resulted in the 'marriage' of strengths in online capabilities of convenience and flexibility with exciting ways of interaction and engagement in-store.
Customers can browse both online at ishopchangi.com or in-store at #01-262 Jewel Changi Airport. Online, users can browse for the latest and exclusive offers and interact with beauty ambassadors, whilst the in-store experience offers personalised advice, tips from beauty ambassadors, and trying product samples.
BEAUTIQUE also offers multiple ways of purchasing products, letting customers choose between experiencing products in-store and then making the purchase online later, 'click-and-collect', or home delivery. Customers are incentivised to return by issuing vouchers and relevant promotional content based on their previous purchases, building connections between the platform and the user base.
Beyond the successes of the omnichannel retail strategy, BEAUTIQUE by iShopChangi successfully set the stage as a launchpad for relationship-building, enhancing brand visibility in nuanced ways that e-commerce alone lacks.
The 17th Retail Asia Awards is presented by Retail Asia. To view the full list of winners, click here. If you want to join the 2023 awards programme and be acclaimed for your company's outstanding retail initiatives, please contact Jane Patiag at [email protected].